Durham were off to a poor start in the 2020 Vitality Blast as they got beaten on home turf by Lancashire. The bowling let them down despite the presence of some experienced names and once the target got that high, chasing was always going to be tough on a slowing Chester-le-Street track. Durham eventually fell short. They still try hard though in the run chase but it was a bridge too far. They have a batting line-up that looks largely underwhelming in terms of firepower and experience. Their best bet would be for their bowlers to set things up, and that's never healthy for a T20 side in a tournament that has batting surfaces aplenty. Add to this, they are up against one of the tournament favourites in Nottinghamshire who are an explosive outfit, ticking all the boxes in terms of team balance. The Notts are a superior outfit but the interesting thing is how Durham have found ways to beat them in recent times. The head-to-head record shows that and the Notts have somehow been unable to get past Nathan Rimmington's boys.
Durham Preview
A young and raw top-order is Durham's biggest concern despite the obvious talent that's there to see. Graham Clarke will need to step up as will David Bedingham because the ones above and below them aren't the kind of players who can set the stage on fire. Brydon Carse was impressive in his quickfire cameo in the opening game and his exploits down the order should be vital as Durham search for getting good finishes to their innings. Stuart Poynter isn't exactly a basher but his ability to manipulate the gaps holds him good stead and he also has some innovation in his game. Clarke still remains their biggest matchwinner and it's imperative that he strikes form. Mark Wood's presence is a boost and he had a fine outing in the previous game. Skipper Nathan Rimmington is another gun T20 bowler and these two will have to shoulder the bowling attack with their experience with the others to play around the duo. Spin is increasingly going to play a role at Chester-le-Street and that makes the role of spinners and the slow medium bowlers that much more significant.
Durham Predicted Playing XI:
S Steel, A Lees, G Clarke, D Beddingham, S Poynter(wk), B Carse, P Coughlin, L Trevaskis, M Wood, M Potts, N Rimmington(c)
D Bedingham
33
28
2
1
117.86
N Rimmington
4.0
0
42
1
10.5
Durham Actual Playing XI:
Matthew Potts, Brydon Carse, Scott Steel, Paul Coughlin, Alex Lees, Stuart Poynter, Nathan Rimmington, Graham Clark, Liam Trevaskis, David Bedingham, Sean Dickson
Nottinghamshire Preview
Having started with a no-result in their opening fixture, Nottinghamshire will be itching to start the winning streak, given the potency of their squad. Extremely well-balanced across all departments, the Notts batting firepower is the envy of most sides with a plethora of destructive batsmen in the mix. Alex Hales will be raring to go and he should fancy the dimensions of Chester-le-Street. As would the rest of the batting line-up that also bats deep. With so much ammunition in the batting, it's fair to say that opponents are certain to be intimidated, especially at venues that have shorter dimensions at certain points. Harry Gurney's exit is a blow in the bowling department but they have experience in backup although obviously not as effective as the left-armer. Jake Ball is likely to be a starter now. Skipper Dan Christian has plenty of options when it comes to picking the final XI and that shows the depth of the Notts squad. The bowling line-up which has quite a lot of all-rounders in the mix, is relatively lukewarm in comparison to the batting and if that can hold its own, Notts will be hard to beat.
Nottinghamshire Predicted Playing XI:
A Hales, C Nash, B Duckett, J Clarke, D Christian(c), T Moores(wk), S Mullaney, S Patel, M Carter, J Ball, L Fletcher
Nottinghamshire Actual Playing XI:
Alex Hales, Steven Mullaney, Tom Moores, Matthew Carter, Joe Clarke, Chris Nash, Ben Duckett, Samit Patel, Jake Ball, DT Christian, Luke Fletcher
HR
Temp
Rain
W. speed
W. direction
Clouds
00h
12
0.27 mm.
7.85 k/h
98%
03h
11
0 mm.
7.88 k/h
From: NNW
65%
06h
11
0 mm.
8.22 k/h
From: NNW
76%
09h
13
0.23 mm.
9.8 k/h
From: N
99%
12h
13
0 mm.
9.36 k/h
From: N
95%
15h
14
0 mm.
8.47 k/h
From: N
85%
18h
12
0 mm.
6.96 k/h
From: N
91%
21h
11
0 mm.
5.55 k/h
From: N
40%
Weather Conditions
Rain is forecast through the week in Durham and while the opening fixture wasn't interrupted as such, weather interruptions cannot be ruled out for this game. Surfaces should be good to bat on with the dimensions further aiding the batsmen. The pitch generally slows down in the second half but again, rain could change the equation drastically.
Venue Details
Chester-le-Street is one England's best venues when it comes to batting with plenty of high scores seen across the years. It's also a very scenic ground with a pleasant view in the vicinity.
Toss: To Bowl
Bad weather does make toss a tricky proposition, given that the surface usually gets harder to bat on in the second half due to the slowness. But with rain around, chasing could be a tempting option too. A definite dilemma for the captains, especially if it is overcast at toss time.
The Notts may not have a good head to head record against Durham in recent times but this is a new season and they seem too strong a side to be trapped by these stats. They are definite favourites to win this clash.
Nottinghamshire to win this match!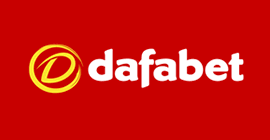 Dafabet
170% bonus up to 17,000 INR
BET NOW