VB Kanchi Veerans beat Karaikudi Kaalai by a massive margin of 110 runs in their last match. They will be high on confidence after such a morale-boosting win. Sanjay Yadav missed out on his maiden TNPL century by just 5 runs. He scored a magnificent 95 runs that included 7 boundaries and 6 sixes. Skipper Baba Aparjith and K Vishal Vaidhya played second fiddle innings to build partnerships with Sanjay Yadav. Rajagopal Sathish provided the late burst to take his team total to 177 runs. Their bowling unit had a party in the second innings with 5 different bowlers claiming wickets. Rajagopal Sathish broke the batting line-up with his spell of 4-0-17-4. Gowtham, Sutheesh, Sanjay Yadav and NS Harish too picked up wickets and they bowled out the Karaikudi team for a paltry 67 runs. VB Kanchi Veerans had a perfect match with both batting and bowling units performing well.
Madurai Panthers come into this match after losing their last encounter against Dindigul Dragons by 31 runs. Skipper Arun Karthik and Sarath Raj started the chase on a good note with 50/0 at the end of 6 overs. But both the batsmen fell after getting starts and they kept losing wickets at regular intervals to end up with 153 runs. All the top 8 batsmen scored over 10 runs but neither of them reached the 30-run mark. Rahil Shah and Kiran Akash were excellent with the ball capturing 5 wickets between them. Jabez Moses did not have a memorable debut this season and gave away 46 runs in his 3 overs. Their bowling unit kept conceding runs and they ended up giving 184 runs in the 20 overs. J Koushik, Abhishek Tanwar, and Akash Sumra are yet to give a good performance with the ball.
Madurai Panthers Preview
Key Players:
A Sarath Raj – Opener Sarath Raj has scores of 33 & 26 runs in the two matches he played. He is getting starts but is failing to convert them into big innings. He must look to score fifties at the top.
R Shah – Rahil Shah is the only bowler who gave runs at an economy of less than 8 RPO in the last match. He had figures of 4-0-21-3 when all other bowlers were carted for runs easily. He has 4 wickets in this season so far.
Recent Stats:
Arun Karthik – 89 runs, Strike rate -151, HS-65*
Rahil Shah – 4 wickets, Economy – 5.3 RPO, BB -3/21
Madurai Panthers Predicted Playing XI:
Arun Karthik (c), Rahil Shah, Jagatheesan Kousik, Abhishek Tanwar, Nilesh Subramanian (wk), Akash Sumra, Kiran Akash, Shijit Chandran, V Chakravarthy, R Mithun, A Sarath Raj
Madurai Panthers Actual Playing XI:
Sabin Karnavar, Sarath Raj A, Akash Surma, L Kiran Akash, Tushar Raheja, Rahil Shah, Jagatheesan Kousik, Arun Karthik, Shijit Chandran, Abhishek Tanwar, R Mithun
VB Kanchi Veerans Preview
Key Players:
Sanjay Yadav – Sanjay Yadav played almost the entire innings and scored a brilliant 95 runs off just 60 deliveries. He added two crucial 50+ partnerships with Vaishal Vaidhya and Baba Aparjith.
R Sathish – R Sathish had an excellent all-round performance lat match smashing 31 runs off just 14 balls to finish the innings and then taking 4 wickets with the ball. His 3-wicket over after the powerplay sealed the match in his team`s favor.
Recent Stats:
Sanjay Yadav – 126 runs, Strike rate -152, HS-95
R Sathish – 4 wickets and 38 runs
VB Kanchi Veerans Predicted Playing XI:
Rajagopal Sathish, Baba Aparajith (c), Rangaraj Suthesh, U Mukilesh, R Silambarasan, Sanjay Yadav, Aushik Srinivas, K Vishal Vaidhya, P Francis Rokins, Suresh Lokeshwar (wk), NS Harish
R Sanjay Yadav
95
60
7
6
158.33
R Sathish
31
14
5
0
221.43
K Vishal Vaidhya
27
24
3
1
112.5
R Sathish
4.0
0
17
4
4.25
K Thamarai Kannan
3.0
0
17
2
5.67
R Suthesh
3.0
0
13
1
4.33
VB Kanchi Veerans Actual Playing XI:
KG Thamarai Kannan, K Vishal Vaidhya, R Sanjay Yadav, B Aparajith, S Siddharth, Rajagopal Sathish, R Silambarasan, Rangaraj Suthesh, S Lokeshwar, P Francis Rokins, NS Harish
Weather Conditions
Tirunelveli pitch has aided the batsmen this season and runs in excess of 170 have been scored twice in three matches. The pitch slows down and aids spinners as the match progresses. The average score batting first this season is 168 runs. The weather looks clear and dry on the match day.
Toss: WIN the toss, BAT First
Teams batting first have won all the three matches played here this season. In fact, the average score difference between first and second innings is a massive 41 runs. We expect both captains to bat first if they win the toss.
Kanchi Veerans have a well-settled batting line-up with both top order and middle order in good form. Their bowlers too have shined with the ball in the last match. But, Madurai panthers are hugely depended on their skipper Arun Karthik in batting and bowling looks weak and toothless except Rahil Shah.
We expect VB Kanchi Veerans to win this match.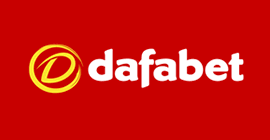 Dafabet
170% bonus up to 17,000 INR
BET NOW